Russian ex-spy poisoning: 200 witnesses identified, 240 pieces of evidence considered
Comments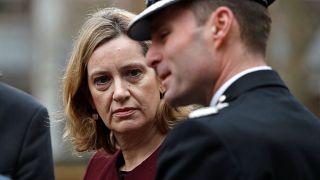 More than 200 witnesses have been identified and British police are looking at 240 pieces of evidence in the investigation into a nerve agent attack on former spy Sergei Skripal and his daughter Yulia.
Home Secretary Amber Rudd on Saturday applauded the professionalism of the police force who she told the press was working "at speed".
Rudd addressed reporters after an emergency meeting of the country's Cobra security committee.
She said Skripal, 66, and his daughter, 33, who were found unconscious on a bench in Salisbury, southern England, were in a "critical but stable" condition in hospital.
The investigation into their attempted murder was entering its sixth day on Saturday.
Nick Bailey, the police officer who found the pair and later became unwell, remained seriously ill but was talking and engaging with his family, according to Rudd.
The officer does "not consider himself a hero" and was "merely doing his job," read a statement issued by the local force on his behalf.
He also thanked the public for their messages of support.
The origin of the nerve agent used remains a major focus for British counter-terrorism investigators.
Many in British media and politics speculated that Russia could have been involved in the attack on Skripal but Rudd reiterated that it was too early to say who was responsible.
She said police should be given the time and space to determine the facts.
Russian Foreign Minister Sergei Lavrov said the claims that his country was involved were propaganda and not serious.