Soldiers on Salisbury streets as terror investigation deepens
Comments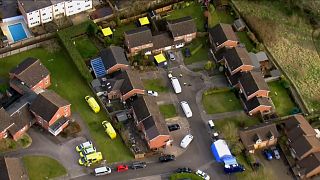 British armed forces have been deployed in Salisbury to help with the ongoing investigation into poisoned former spy Sergei Skripal. They have been called in by Counter Terrorism police to remove a number of vehicles and objects.
Police have carried out further searches at Mr Skripal's home with forensic checks have been carried out on his car.
It is believed investigators are now working on the theory that it was here he and daughter Yulia were poisoned.
British Home Secretary Amber Rudd visited the city this morning to inspect the scene and get an update on the investigation from the emergency services
She said she understood people's curiosity but stressed it was essenntial that the police be given the room to work so as to estabish the facts, and not release partial information in haste.
The Home Secretary is also visiting the hospital which has been treating the victims. Police Sergeant Nick Bailey is still in a serious condition but has regained consciousness and been visited by his family and colleagues.
Sergei Skripal and his daughter Yulia are still in a critical condition in intensive care.