News of Trump-Kim meeting greeted with hope and caution
Comments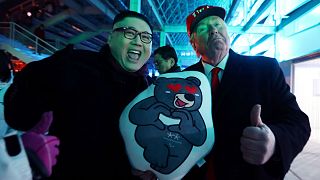 -
The prospect of US President Donald Trump meeting for the first time with North Korea's leader Kim Jong Un could lead Pyongyang to finally give up its nuclear weapons programme – at least that's the hope the news has sparked in South Korea, still technically at war with its northern neighbour.
South Korean President Moon Jae-In, who led the pursuit of detente with North Korea during his country's hosting of the Winter Olympics last month, said the summit would set a course for denuclearisation on the Korean peninsula, according to a presidential spokesman.
"President's Trump decision to accept Kim Jong Un's invitation is highly praised by the world, by the people of North and South Korea, who are hoping for peace," said spokesman Kim Eui-Kyeom.
The optimism was largely echoed on the streets of the capital Seoul. Kwang Nam, a 75-year-old resident, called the announcement "great news".
"Everything is heading in the right direction. Wouldn't it be great if the Korean peninsula could reunite and live as one? We can maintain good relations with our neighbour. We cannot afford a war," he said.
Neighbouring China welcomed what it called "positive signals" from the US and North Korea.
However, Foreign Minister Wang Yi has urged both countries to hold talks as soon as possible, warning on Thursday (March 8) that things "will not be smooth sailing".
"Judging from Kim's character, I don't think he will give up easily, since he has acted against the peaceful situation that the world has been pursuing, for example by conducting nuclear tests," said Beijing resident Linda Lin.
"The talks would give him support and might only deteriorate the situation. It's not good."
Japan also remained cautious.
"Japan and the United States will not waver in its firm stance that they will continue to put maximum pressure until North Korea takes concrete action towards the complete, verifiable and irreversible end to nuclear missile development," Prime Minister Shinzo Abe told reporters in Tokyo.
Takahiro Oda, a 73-year-old resident of the Japanese capital, said he found it difficult to trust either Trump or Kim's intentions.
"I don't know what's in Trump's head, and I have doubts as to whether he's serious," he said.