Cartoon Movie: the European animation world meets in Bordeaux
Comments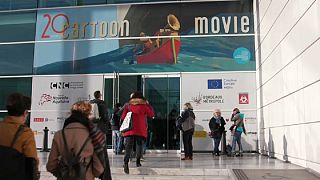 A who's who in the world of European animation meet in Bordeaux with the aim of getting more animated films on the big screen.
The event, Cartoon Movie, allows producers to meet dustributors in the early stages of development.
Since the first meeting in 1999 the European animated film industry has grown five fold.
Annick Maes, director of Cartoon Movie spoke to Euronews about the other developments in recent years: "I think what changed most over the last 20 years is the role of the film distributers.
Compared to 20 years ago, the distributers come on board much earlier in the production process of the various projects.
So you have much wider European and international marketing from the offset."
This year there is a focus on Spanish animation houses.
European animations have had notable recent successes with oscar nominations last year for the French feature My Life as a Courgette and the highly acclaimed existential feature the Red Turtle from Dutch director Michaël Dudok de Wit teaming up with Japan's animation power house Studio Ghibli.