Aid finally arrives in Ghouta but fierce fighting blocks its distribution
Comments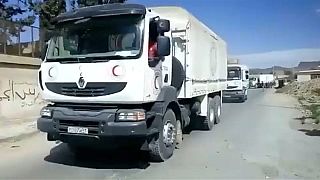 An emergency aid delivery has crossed front lines into the besieged Syrian rebel enclave of eastern Ghouta but it quickly ran into danger from renewed shelling.
Fierce fighting prevented the material from being dispatched earlier this week amid a fresh government offensive.
Relief workers say there are still acute shortages causing widespread hardship.
"It (Ghouta) is hell on earth for children. Bombing is almost unceasing and the amount of violence means that a child sees the violence, sees the death, sees the maiming. And there's now a lack of water, lack of food, so disease is coming on," said Henrietta Fore, Unicef chief executive. 
In less than two weeks, the Syrian army has retaken nearly all the farmland in eastern Ghouta under cover of near ceaseless shelling and air strikes, leaving only a dense sprawl of towns - about half the territory - still under insurgent control. Aid workers estimate up to a thousand people have been killed during the onslaught.