21 people treated as a result of ex-Russian spy poisoning: Police
Comments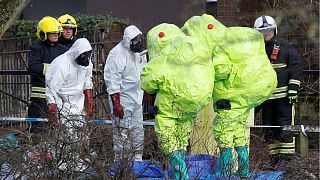 Twenty-one people have been treated as a result of the nerve agent attack on the former Russian spy in Salisbury, police have confirmed.
Kier Pritchard, the acting chief constable of Wiltshire Police, said a "total of 21 people are being treated as a result of the ex-Russian spy poisoning."
A number of those people had "been through the hospital treatment process, they are having blood-tests, support and advice," he added.
Sergei Skripal, 66, and his daughter Yulia, 33, were found unconscious on a bench in the city of Salisbury on Sunday after being poisoned with a nerve agent.
The British government has described the use of a nerve agent to attack the pair as a "brazen and reckless" act.
However, Home Secretary Amber Rudd warned against speculation over who was behind it.
"The use of a nerve agent on UK soil is a brazen and reckless act. This was attempted murder in the most cruel and public way," Rudd told the House of Commons in a statement.
"But if we are to be rigorous in this investigation, we must avoid speculation, and allow the police to carry on their investigation. We will respond in a robust and appropriate manner once we ascertain who was responsible."