The search for Greece's unburied war dead
Comments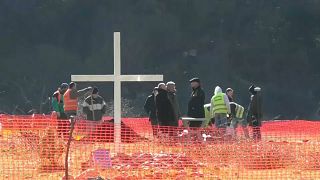 Their remains lie where they fell during world war II. Some 8000 Greek soldiers buried in mass graves in Albania. They had been confronting Italian troops they had driven out of Greece between 1940-1941.
Having tried in fits and starts to find the fallen since Albania shook off communism in 1992, Athens and Tirana finally started exhuming the soldiers in January this year following the activation of a bilateral agreement signed in 2009. The deal between the two countries had been frozen and was activated after a meeting between Foreign Minister Nikos Kotzias and his Albanian counterpart Ditmir Bushati in Crete last November. It was hailed as a step forward in efforts between the two governments to improve bilateral relations.
A statement issued by Greece's Ministry of Foreign Affairs said: "An important step is being taken towards laying to rest the souls of the Greek soldiers who fell in the Greek-Italian war of 1940-1941. The last unburied fallen of the Second World War."
The long-standing issue has been a thorn in relations between Greece and Albania for many years.
Digging is taking place in locations around Dragodi. Old Italian military maps and information provided by locals is being used to locate the mass graves.
Archontis Dovas was 3-years-old when his father Gavriil was killed in the fighting. For several decades he has been trying to find his father's remains. Now 80 years-old, the former top judge struggles to hold back the tears. The only thing he has from his father is an old photograph but he hopes finally he will be able to lay his father to rest.
"An Italian mortar killed him instantly. (As a co-soldier of him told us) The only thing he said before he died was "take care of my children," Archontis explains.
"The only thing we want is to take him some flowers and cry," he adds.
A DNA database has been set-up in the Greek capital where relatives can give blood.
Panagiotis Menounos, a biologist who has been working on trying to identify the missing for a decade, says the laboratory attempts to find a match with the sets of remains currently being exhumed in Albania.
"We take a small bone fragment from the skeletal remains. We clean carefully those samples in order to remove the surface impurities and we convert it into fine ground powder. Then we isolate the genetic material and the proliferation of the mitochondrial DNA fragment which presents high variability. We analyse and make the comparison of the genetic material with the relatives" (We study specific regions of the genetic material which vary significantly among different people).
Euronews' Michalis Arampatzoglou says: "The most crucial factor for the success of the whole procedure is to collect as many blood samples as possible from the relatives of the fallen soldiers"