Network failures after thaw put pressure on UK's privatised water utilities
Comments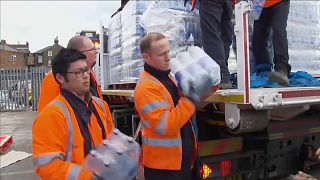 With thousands of homes in Britain still without water consumers are expressing their anger after widespread pipe failures affecting many of Britain's privatised water utilities.
The #big thaw following the heaviest snow in nearly thirty years has burst pipes across the networks of six of the country's biggest suppliers, Southern Water, South-East Water, South-West Water, Wales Water, Severn-Trent Water and Thames Water.
They are having to field thousands of compaints and distress calls. Bottled water is being distributed in many areas, amid accusations of unpreparedness and failing to invest in infrastructure.
Problems persist in the south, south-east, south-west, Wales and London, where Mayor Sadiq Khan has lambasted the utilities for leaving families high and dry.
Seven Trent Water had to cut supplies to industres like Jaguar Land Rover and Cadbury to ensure hospitals and schools could function, while in Wales and especially Cumbria persistent snow is the problem, with some snowed in for their sixth day in four-metre drifts burning furniture to stay warm.
Britain's Labour Party has promised it will re-nationalise water companies if it regains power.