Netanyahu in USA as trouble brews at home
Comments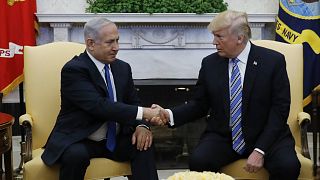 President Trump has said a visit to Israel is on the cards, to be timed with the planned opening of the US embassy in Jerusalem in May.
Trump's decision to move the US diplomatic base there has infuriated Arab allies but has bolstered Israel's prime minister.
Benjamin Netanyahu is fighting for his political survival back home amid a string of corruption probes.
Casting a shadow over his meeting with Trump, it was revealed that former Netanyahu aide Nir Hefetz had agreed to testify against the premier and hand over alleged recordings of him and his wife.
Hefetz is one of the suspects in a case involving alleged favours granted to Israel's biggest telecommunications company Bezeq.
Netanyahu denies any wrongdoing, while protests have been held calling on him to step down.