First male victim of disgraced doctor Nassar comes forward
Comments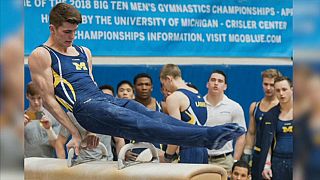 A Michigan gymnast has become the first man to accuse disgraced former national team doctor, Larry Nassar, of sexual abuse.
Jacob Moore, now a freshman for the University of Michigan's gymnastics team, said he wants other potential male victim's to know, they are not alone.
Moore's sister was one of more than 100 women to read a victim impact statement against Nassar.
Moore says he went to the disgraced doctor back in 2016 for a shoulder injury, two years ago when he was 16.
Nassar treated the injury with acupuncture to not just the shoulder but his pubic area as well.
Moore's lawyer says Moore's abuse could have been prevented if other's were as courageous as his client.
Moore is joining the lawsuit against not just Nassar but Michigan State University and USA Gymnastics.
Nassar has pleaded guilty to criminal sexual conduct in two counties in Michigan.
He has been sentenced to decades of prison time on those charges and on several child pornography charges.