A black Harry Potter? UK activists' diversity campaign goes viral
Comments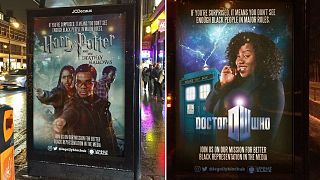 Copyright

TWITTER/@Legallyblackuk
Posters showing screen classics like Titanic, Harry Potter and James Bond re-imagined with black characters have sparked a debate in the UK.
They appeared in Brixton, London, and were heavily shared on social media.
The campaign was dreamed up by activism groups Legally Black and the Advocacy Academy to publicise how underrepresented ethnic minority characters were in British television and film.
Legally Black ally and Kings College Mathmatics School student Bel Matos da Costa, 17, helped put the posters together. The spoof film adverts featured friends, their parents, and some pupils from local schools, and were made with help from a Photoshop specialist and photographer who were inspired by the movement.
Costa told Euronews: "There's currently very little black representation in TV shows. The only British TV shows I know that have substantial black representation is Black Mirror and Luther.
"But even though they have black characters in them … it would be better if the stories were based around a black person's life as opposed to just having a black person in a TV show."
The campaign is not just about black representation, he adds.
"We want a vast variety of roles, we want more complex roles. We want women of colour, we want Muslims of colour, we want LGBT (Lesbian, Gay, Bisexual, Transexual) people of colour. We want stories based around people where their circumstances are talked about."
Costa says public reaction to the posters has been "phenomenal", and hopes his fellow activists will be able to ride the wave of attention to take things further.
"We really want to talk to commissioners from Netflix, Channel 4 and the BBC to commission black narratives, black writers, black producers … and I think that, now that we have a following, we actually have some power to do so."
What the figures tell us
The scarcity of roles for minorities in British film and TV has become apparent in recent years – both in front of the camera and behind the scenes.
Research conducted by the British Film Institute (BFI) shows that 59% of UK films released between 2006 and 2016 did not feature a black actor in any named character role, and among the 1,172 films, there were only 218 black lead roles. In fact, out of 45,000 roles that were credited to UK actors in that time, only 0.5% were played by black actors.
In 2017, media regulator Ofcom also found that BAME (Black, Asain and Minority Ethnic) employees across five major broadcasters - the BBC, Channel 4, ITV, Sky and Viacom - made up 12% of the work force, lower than the national population average of 14%.
But changes are coming.
As of this year, films submitted for BAFTA award consideration in the 2018/19 season must meet some diversity standards set by the BFI. These may include proof that minority characters or stories featured in a meaningful way, or that minority employees were sought for key production roles.
But more work still needs to be done, according to Diversity School Initiative (DSI) founder Steven Kavuma.
The 21-year-old drama student founded the non-profit in 2016 to combat underrepresentation in performing arts training institutions.
"If you want to get more diverse people in the industry then it has to start with where we train people, and that's at drama schools," he told Euronews.
And Kavuma, who is currently in his final year at the Royal Central School of Speech and Drama in London, is spearheading efforts to make that happen.
With involvement from board members and drama schools, DSI drew up a contract to commit signees to improving diversity in their institutions. So far, up to five schools have accepted the three-year agreement, including the world-renowned Royal Academy of Dramatic Art in London.
"That's us saying we're tired of talking, we're tired of going to events about diversity. We want to get stuff done," says Kavuma.
"And it's not about 10 years, it's not about 20 years — it's about next year, it's about next month. It's about, how can we do this on a bigger scale? And how do we get our world to be represented in the schools we study?"