Watch again: Lega party leader vows to 'remain proudly populist' after huge gains in Italy election
Comments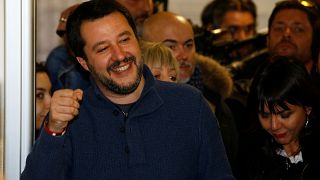 Eurosceptic Lega (League) party leader Matteo Salvini has vowed to remain populist on Monday morning after the anti-immigration party was projected to take 18% of the votes. The projections mark an impressive feat over former Prime Minister Silvio Berlusconi's Forza Italia party, which had been tipped to be the largest party of a potential centre-right coalition.
"I am and will remain proudly populist," said Salvini.
"The euro was, is and remains a mistake," he said, but found the idea of holding a referendum over Italy's continued participation in the single currency was "unthinkable".
The Lega leader, a staunch Eurosceptic, also emphasised that Europe needed to be rebuilt "around people, but not bureaucracy",
Salvini on Monday during the press conference said the centre-right coalition has won and can govern, adding that the financial markets had "nothing to fear".
The anti-establishment party 5 Star Movement is predicted to take the most seats, but is projected to fall short of a majority to form a government.
Salvini appeared to reject the idea of his League teaming up with 5 Star, saying "No to strange coalitions. No, no, no..."
The centre-right alliance, made up of four parties including Forza Italia, is projected to win about 37% of votes.