SPD agrees to enter into grand coalition with Merkel's Conservatives
Comments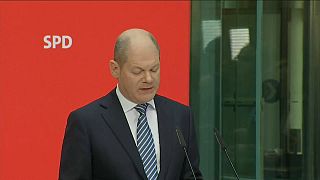 Germany's centre left social democrats have given their seal of approval to enter a grand coalition with Chancellor Angela Merkel's conservatives.
Two thirds voted yes. This means a new govenrment will be formed after five months of uncertainty in Europe's largest economy.
Olaf Scholz, the acting SPD-chairperson, said: "The Social Democratic Party did not make this decision lightly. It spent the last weeks in in-depth and transparent and open discussions over the coalition deal. They were important and gripping debates that a great many members of the SPD took part in. We grew closer together during these discussions".
The party's youth division said it would be scrutinising the new government every step of the way.
Kevin Kuehnert, head of the party's youth division, said: "We will be watching the government closely, both sides and will try to assure that all the non-binding declarations of intent become concrete policies. We will demand that political debate and argument finally returns to this party and to society."
The vote means Chancellor Angela Merkel is set to form her fourth government.
German President Frank-Walter Steinmeier said the result was good for our country that this period of uncertainty is over," German President Frank-Walter Steinmeier.