New German movement aims to revive country's left
Comments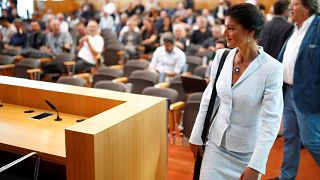 -
One of Germany's most prominent left-wing politicians has introduced the "Aufstehen" or "Stand Up" movement aimed at reviving the country's ailing left and forming a government with a social agenda.
"What we experience in Germany right now is a solid crisis of democracy," Wagenknecht said at a press conference on Tuesday (September 4). "There are a lot of people who don't feel represented by our politicians, our government, our politics, who feel left behind, or turn away."
However, the movement is being met with widespread skepticism.
Germany has three parties that are broadly left-leaning, the Social Democrats, the Greens and the most far-left, Wagenknecht's Left Party.
Together they lack a parliamentary majority and policy differences and personal antagonism have also been a barrier to a national alliance.
No serious consideration was given to a left-wing coalition when the three did have a joint majority in 2005 and 2013 elections.
But Wagenknecht says 100,000 people committed to changing the current coalition have already registered online
"Our goal is to change the parties," she said. "We have provided an agenda. If this could become a common agenda for the parties for which their leaderships are actually fighting, then I think we could win new majorities and we could have a different government!"
Wagenknecht is a divisive figure even within her own party, in part for taking a skeptical position on migration.
She is keen to dent the appeal of the far-right parties such as Alternative for Germany (AfD) to protest voters who used to support her Left Party, but a recent party congress backed "open borders" for asylum-seekers.