Italy: Decision day after divisive election campaign
Comments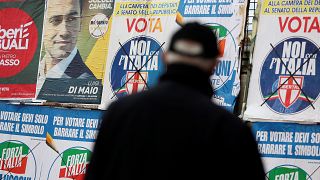 Voting is underway on Sunday in Italy's general election.
But don't hold your breath for a new government to be formed, with no clearcut winner expected.
Pollsters predict that former prime minister Silvio Berlusconi and his far-right allies will emerge as the largest bloc, though short of a parliamentary majority.
However, the anti-establishment 5-Star Movement looks set to be the biggest single party.
The ruling centre-left Democratic Party (PD) is seen limping home in third place.
The campaign has been divisive, marked by anger over the listless economy, high unemployment and immigration.
Populist parties have been on the rise across Europe since the 2008 financial crisis, but mainstream parties in Italy have found it especially hard to contain voter anger, with the economy still some six percent smaller than a decade ago and unemployment stuck at around 11 percent.
Polling stations close at 11.00 p.m. (2200 GMT), with exit polls due immediately afterwards.
But the vote is being held under a complex new electoral law which means the final result might not be clear until late Monday.
Then it could take weeks before a government deal is reached.
President Sergio Mattarella cannot launch any formal coalition talks until after the new parliament has sat on March 23 and the next prime minister will need to win votes of confidence in both houses before taking office.
with Reuters