Catalan parliament picks Puigdemont as symbolic leader
Comments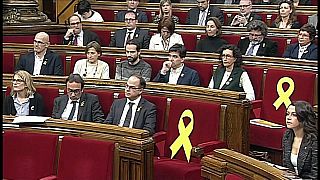 Spain's political deadlock appears set to continue with the Catalan parliament picking up where it left off before December's regional election.
In its first session since the vote, the chamber named Carles Puigdemont as its symbolic leader.
Just over two-thirds of the house backed the motion in favour of the separatist leader who remains in exile in Belgium.
The house also reaffirmed the validity of the banned independence referendum held last October; and stressed the importance of forming an effective government for the region.
It comes despite Madrid's call for a president to be chosen who's "in Spain, not in jail or facing any problems with the law."
It is now reported that Puigdemont will withdraw his candidacy to be leader in favour of pro-independence campaigner Jordi Sanchez. But he's being held on remand in Madrid on sedition charges.