Turkish teacher 'given job back' 18 months after his death
Comments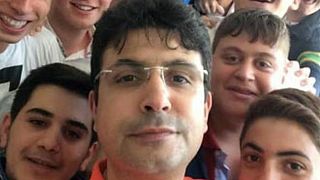 He is the tortured teacher considered such an enemy of the Turkish state that even a dignified funeral was too much to ask.
Gokhan Acikkollu was one of thousands of public servants to be rounded up in the days following the country's failed coup on July 15, 2016.
The history teacher died on August 5, 2016, after being tortured in police custody, say the Stockholm Center for Freedom (SCF).
Authorities considered the 42-year-old a conspirator and wanted to bury him in a special traitors' graveyard in Istanbul.
But Acikkollu's family intervened, embalmed his body themselves and transported it to his home town for burial.
Yet even then he was denied a dignified Muslim burial. Imams, appointed by the Turkish Religious Affairs Directorate, refused to conduct his funeral prayers.
Now, more than one-and-a-half years on, his relatives have been shocked to learn authorities now consider him innocent and have even 'reinstated' him as a teacher.
The Justice and Development Party (AKP) — led by Turkish president Recep Tayyip Erdogan — have issued a pardon.
It came via a letter from the Turkish Education Ministry, which was delivered to Acikkollu's widow by the principal of his former school.
Acikkollu was detained on July 24, 2016, just over a week after the failed coup. It was alleged he was a member of US-based cleric Fethullah Gulen's movement, who Erdogan has accused of being behind the plot.
SCF said Acikkollu is one of 107 suspicious deaths and suicides since the coup attempt, which left 249 people dead in the immediate aftermath.
It said Turkey had suspended or dismissed more than 150,000 judges, teachers, police and civil servants since July 2016.
The NGO added in a report: "Teacher Açıkkollu was beaten, slapped in the face, kicked in the rib cage, kneed in the back and his head banged against the wall.
"His medical check-up before he was put in detention showed no signs of any heart troubles; yet, he was pronounced dead due to heart failure.
"When he collapsed in his cell, emergency services were belatedly called and he died in detention, although official records were doctored to reject the false fact that he died at the hospital."