Juncker visits Kosovo amid EU accession talks
Comments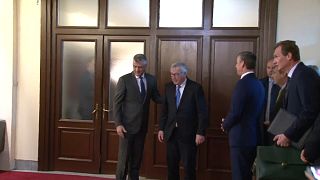 Pristina was Jean Claude Juncker's last stop on his tour of the Western Balkans.
It is his first official visit there.
Kosovo wants to join the bloc but, as the European Commission president reiterated, there has to be a legally binding text for normalising relations before accession.
The deadline is 2019 - the end of the current mandate.
Five EU member states don't recognise Kosovo's 2008 unilateral declaration of independence.
People of all six western Balkan countries are expecting a possible date for starting negotiations, getting candidate status or joining.
But the only date given is 2025 - not as a promise but as a possibility for Serbia and Montenegro.
The period between now and the Western Balkan summit in Bulgaria's Sofia is crucial, Euronews correspondent Efi Koutsokosta says.
The six countries concerned should accelerate their efforts on internal reforms, especially those concerning the rule of law and solving all bilateral territorial or other disputes.