Japan unveils 2020 Olympic mascots
Comments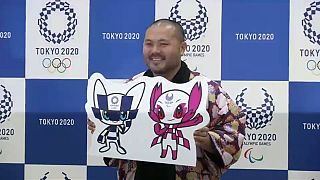 Mascot-loving Japan has unveiled two new characters as the mascots for the Tokyo 2020 Summer Games.
A blue-checked character will be the one for the Olympics and a pink cherry blossom-inspired one for the Paralympics.
Organisers last year received more than 2,000 entries from the general public in a nationwide competition, from which they short-listed in December three pairs of designs.
Students from more than 200,000 classes at around 16,000 Japanese elementary schools took part in the selection, with each class casting a single vote.
The winning pair, created by designer and illustrator Ryo Taniguchi, received around 109,000 votes, more than half of the total and easily beating the other two finalist pairs.
The mascot selection panel now has to decide on their names.
The Tokyo 2020 mascots will take the torch from their cuddly Pyeongchang counterparts Soohorang, a white tiger, and Bandabi, a black bear.