Aid agencies await truce in Syria's Ghouta
Comments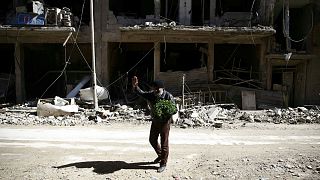 -
Copyright

REUTERS/ Bassam Khabieh
The US has accused Russia of failing to rein in its Syrian ally as a brief truce collapsed on day one.
Moscow's call for a daily five-hour "humanitarian pause" failed to halt the bombing over rebel-held Ghouta on Tuesday (February 27). As a result, there was no sign of any UN aid deliveries or medical evacuations.
Russia claims rebels went on the offensive during the pause and struck government targets. Residents said government warplanes had resumed striking the region after a brief lull.
As the truce broke down, France and Britain urged Russia to use its influence over Syrian President Bashar al-Assad to secure a 30-day ceasefire covering the whole country, as demanded by the UN Security Council on Saturday.
Meanwhile, a senior US general accused Moscow of playing a destabilising role in Syria.
"Diplomatically and militarily, Moscow plays both arsonist and firefighter, fueling tensions among all parties in Syria," US Army General Joseph Votel told a House of Representatives Armed Services Committee hearing.
Over the past week, Syria's army and its allies have subjected eastern Ghouta to one of the heaviest bombardments of the war, killing hundreds.
Some 393,000 people are trapped in the rebel enclave near Damascus, which has been besieged by the government since 2013.