Rebel-held Ghouta's 'humanitarian pause' now underway
Comments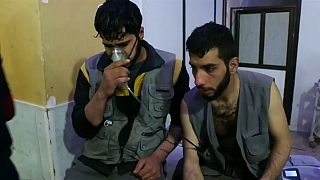 A Russia-led daily five-hour pause in the Syrian government's assault on rebel-held eastern Ghouta is underway.
London-based war monitor The Syrian Observatory for Human Rights said on Tuesday that the ceasefire was being respected, aside from some shelling in the town of Douma which struck shortly before the truce began.
On Monday, Moscow announced it would establish an 'evacuation corridor' enabling people to leave eastern Ghouta.
There has been no mention however of allowing relief supplies to enter the besieged Damascus suburb where 400,000 people have been subject to air and rocket fire bombardments from Russian-backed Syrian regime forces.
More than 560 people have been killed in the last eight days according to the monitoring group.
The UN has called for the full implementation of a Security Council resolution demanding a 30-day ceasefire across the entire country.
The Red Cross has welcomed Russia's move but says humanitarian convoys need to move in with medicines, and food and water purification materials.