South Korea prosecutors demand 30 years in jail for ex president
Comments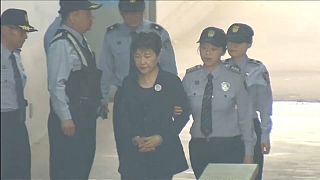 Prosecutors in South Korea have called for former president Park Geun-hye to be jailed for 30 years on several charges, including bribery and abuse of power.
They are also demanding a fine of 118.5 billion won (€89.7 million) to be imposed, saying Park has shown no remorse for "disrupting constitutional order and damaging the public's trust in state power".
The 66-year-old did not attend the hearing and denies wrongdoing. She is yet to be convicted on the charges.
The country's first female president and the daughter of late dictator Park Chung-hee, who ruled South Korea from 1963 until 1979, sparked nationwide protests in late 2016 after her close relationship with a pseudo-Christian cult leader's daughter was exposed by national media.
It was reported that Choi Soon-sil conspired with the former president to collect millions from South Korean companies through bribery and extortion.
Her father Choi Tae-min was a close family friend and mentor to Park's father until his death in 1994.
After refusing to step down despite the fierce public backlash, Park was eventually forced from office and impeached in March last year. Her successor, Democratic Party leader Moon Jae-in, was elected in May.
Choi, 61, was sentenced to 20-years behind bars earlier this month, and fined 18 billion won (€13.6 million) for her role in the corruption scandal.