Seven retro tech gadgets that have had a modern update
Comments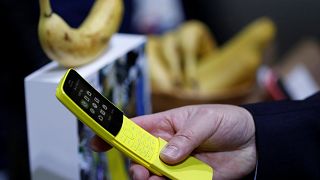 In a world obsessed with drones and connected devices, here are some tech classics that were brought back in 2017 and a few that are set to hit shelves this year.
Nokia 3310
Grown-up nineties kids let out a cry of delight when Finnish company HMD Global Oy announced it would resurrect the chunky mobile phone.
After first being put on sale in the early 2000s an updated version of the Nokia 3310 was made available to consumers in 2017.
The new 49-euro model boasted a souped-up colour version of the "Snake" game that had consumers glued to their screens long before "Candy Crush" and offered a 3G internet connection.
Nokia 8110
Arguably lacking the "nostalgia" factor that swung sales for the 3310 last year, HMD announced a revival of the Nokia "banana phone" that featured in the Matrix film at the Mobile World Congress 2018.
Like its predecessor, the 8110 boasts impressive battery power — it should last 20 days on a single charge, according to Nokia.
The device will be available for around €79 when it ships in May, 22 years after Keanu Reeves dropped it from the top of a skyscraper.
Kodak Super 8 camera
The last time Kodak's Super 8 camera was on the market was in 1982 and it will be brought back sometime this year.
Kodak says the original "revolutionised amateur filmmaking" when released in 1965 and the new version, equipped with 3.5-inch LCD screen, is hotly anticipated.
The technology company gave a price range of between $2,500 and $3,000 (€2,034-€2,445).
Polaroid camera
Polaroid Corporation is set to relaunch a classic on its 80th birthday in September, bringing back the OneStep, first released in the early 1990s.
It says the new OneStep 2 "blends classic design with contemporary style," in the form of an "instant analogue camera" that shoots re-engineered classic Type-600 and i-Type film.
Priced at €119.99 the new model is USB rechargeable.
Super Nintendo
Zelda and Donkey Kong Jr. came bounding back into our lives with the launch of the NES Classic console in 2016, followed by the SNES Classic edition in 2017.
Both mini versions of the original Nintendo consoles came with pre-loaded classic games and were a roaring success, with a price point of $80 (around €65).
Game Boy
If you were a constantly glued to your Game Boy, going through endless AA batteries trying to defeat a boss on Super Mario, this new release might interest you.
Gaming outfit Hyperkin.com said it plans to bring back a new-and-improved version of the Nintendo's first handheld game console this summer.
The Ultra Gameboy has a price point under $100 (€81), a backlit LCD display and a pair of stereo speakers, among other new features.
On the subject of AA batteries, the device has a USB-C charging port and a built-in six-hour battery.
Record players
While you could argue that they never went away, record players have undeniably surged in popularity over the last few years with even those who don't remember them "the first time around" starting vinyl collections.
Gramophones ... sort of
The gadget that dates back the furthest in our list is definitely the gramophone.
Those nostalgic for the sound-recording-and-playing device can now get a ceramic Bluetooth speaker in the form of the Luciano Speaker.
Inventors of the speaker New Black priced most models at €590 but if you really want a luxury vintage-inspired product there's even a 24-carat, gold-plated version for €1,390.