Visit by King Felipe to Barcelona sparks riot
Comments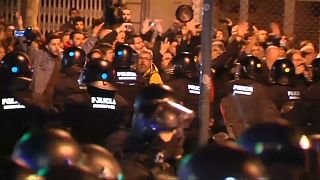 Pro-independence protesters have clashed with Catalan police in Barcelona as they demonstrated against a visit by Spain's King Felipe.
Police in riot gear charged the crowd as protesters tried to approach the city's Music Palace where the monarch was attending a welcome dinner for the 2018 Mobile World Congress which begins today.
Supporters of Catalonia's split from Spain have expressed criticism at what they describe as the lack of the King's attention to the region and his refusal to promote political dialogue between the central government and secessionist parties.