#March4Women: Choir to sing 'You Don't Own Me' in London
Comments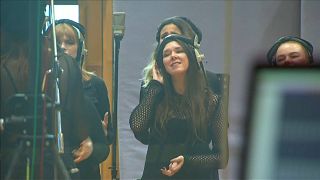 They are making their voices heard for gender equality.
Singers have been rehearsing their rousing finale to this Sunday's '#March4women' event in London.
As they belted out Lesley Gore's 'You Don't Own Me', the song chosen to close the march, they were watched at a recording studio in the British capital by the great-granddaughter of UK suffragette leader Emmeline Pankhurst.
A century after British women first got the vote, activist Helen Pankhurst believes that 2018 is also a time for change.
'I think we can really make a diffference now, that literally the baton is in our hands," she said.
"It is up to us. It is our generation's responsibility to do what we can - men, women, children, older people, everybody. And together if we want to, we can make that change."
The fight for women's votes wasn't won overnight and those who waged it showed huge courage.
Many of the suffragettes, who with the Representation of the People Act in 1918 won the vote for British women over the age of 30 and "of property", received hate mail. Some were hurt, imprisoned and force-fed and others were killed, during their protests.
Today, against the backdrop of the 'Time's Up' and 'Me Too' movements, Helen Pankhurst continues her great-grandmother's struggle.
And she is in no doubt that, as International Women's Day approaches, on March 8, much still remains to be done.
with Reuters