Dusseldorf Judo Grand Prix - Day 3
Comments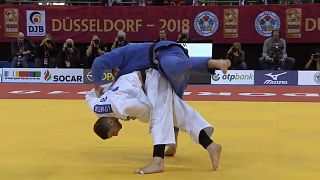 Day three of the Dusseldorf Judo Grand Prix saw Olympic champion Mashu Baker of Japan in action.
He was making his return to the World Judo tour and came up against Russia's Mikhail Igolnikov in the final.
But there would be a shock in store as Igolnikov caught Baker with a footsweep for a stunning ippon win.
It was a great moment which made Igolnikov our man of the day in Dusseldorf as he showed that, with good judo, anyone can be beaten - even Olympic champion Baker, who would have to be content with a silver medal.
Later Igolnikov spoke about his victory: "Of course Baker is Olympic champion, he is a great Judoka," he said.
"But I wasn't afraid by the fact that he was Olympic champion as I came out, I just did my best and I'm very happy.
"I did the same in all my contests, I just went out to do my best. It doesn't matter if they are world champion or Olympic champion I just do my best.
"I'm happy with this result."
Openweight Gold
Japan's world Openweight champion Sarah Asahina was our woman of the day as she took her first gold of the year. Her best moment was an ippon against Germany's Samira Bouizgarne during the eliminations. Will Asahina win another world title this year in Baku?
She is pleased with her performance so far. "I'm happy because this is my first competition of 2018," she explained.
"My parents were very powerful. They made me very strong, I appreciate them."
Georgia's judo Talisman Varlam Liparteliani was in action at under 100 kilogrammes and took gold to become World Number One in the division.
An ippon against Tunis Grand Slam winner Ben Fletcher of Ireland gave him his fourth win here in Dusseldorf, which has been a real stomping ground for the Georgian over the years.
After once again proving his class as an athlete, he showed his class a person, signing autographs for young judo fans.
IJF guest Anthony Carelli, a former WWE Intercontinental champion, was present to award Liparteliani with his gold medal.
Japan's Ruika Sato took under 78 kilogramme gold. A tai otoshi ippon against World Bronze medallist Nathalie Powell of Great Britain was the highlight of her day.
Our move of the day came as Portugal's Jorge Fonseca took on Toma Nikiforov of Belgium for under the 100 kilogramme bronze.
A sensational osoto gari awed the crowd. A wonderful way to win a Grand Prix medal which was appreciated by everybody inside the ISS dome including his opponent who showed great sportsmanship by congratulating Fonseca for his win.