Vehicle attempts forced entry at White House
Comments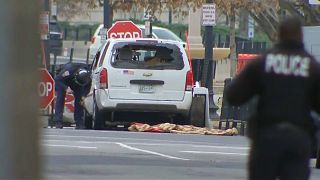 A vehicle struck a barrier outside the White House on Friday night, prompting a momentary panic.
Secret Service officers rushed to the scene where they arrested the female driver of a white Chevrolet van.
The White House, where President Donald Trump was hosting Australian Prime Minister Malcolm Turnbull, was placed on lock down and security officials were on high alert.
Her vehicle did not breach the security barrier and no one was injured, according to the Secret Service.
The White House said later that the women had mental issues and was known to White House staff for having previously frequented the area.