Eastern Ghouta, 23/02/2018: No Comment
Comments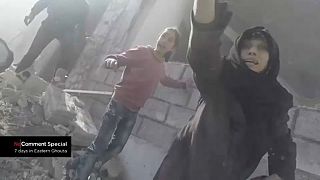 For days the people of Eastern Ghouta in Syria have been confronted with the most brutal face of 21st century warfare.
The bombardment to which the Damascus suburb has been subjected has been so severe that Unicef said it had run out of words to describe the suffering of families there.
Rather than describe the scene, we want you to be able to see it for yourself. The video shows the reality of modern war. The scenes are violent and disturbing.