Elephants tranquilised and 'relocated' after destroying crops
Comments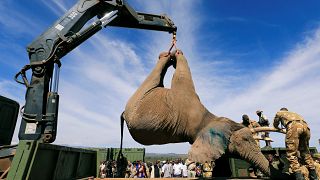 Who doesn't love elephants?
Well some farmers in Kenya aren't too fond of the giant creatures because they keep destroying their crops!
That is why wildlife officials there have begun a relocation operation for some 30 elephants, tranquilising them and transporting them to a National Park.
They fitted monitoring collars on the animals before using cranes to swing them, inverted with bound feet onto flatbed trucks.
Kenya has several thousand elephants, who face threats such as ivory poachers and habitat loss, but they often raid crops and farms as they migrate between parks, angering villagers who rely on the produce to feed their families.
The Kenya Wildlife Service, which moved the animals from Nyeri county, around 200 km north of Nairobi, to the Tsavo East National Park in a bid to avert such encounters, estimated the operation cost $6 million.
with Reuters