Woman fined after telling ambulance crews not to park outside her house
Comments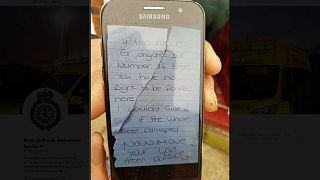 Copyright

West Midlands Ambulance Service
A woman has been fined after putting an abusive note on an ambulance and telling paramedics not to park outside her house.
It happened in Stoke-on-Trent, England, on Sunday (February 18) as crews were responding to an emergency 999 call.
The note, which was photographed by paramedics, read: "If this van is for anyone but Number 14 then you have no right to be parked here. I couldn't give a shit if the whole street collapsed. Now move your van from outside my house."
Kirsty Sharman, 26, pleaded guilty to a public order offence when she appeared before Staffordshire magistrates on Tuesday.
Magistrate Christopher Rushton, who fined her £120 (€136), said: "This was an absolutely despicable incident."
Hayley Keegan, solicitor for Sharman, said her client wanted to offer her sincere apologies to ambulance staff.
"We welcome the outcome of this unpleasant case," said a spokesman for West Midlands Ambulance Service.
"We are pleased to see … magistrates felt that this was 'an absolutely despicable incident'.
"We hope that this case will serve as a warning to others that abusing our staff is not acceptable.
"Our staff will only block roads or park in front of drives if absolutely necessary in the interests of patient care. In this case, they were parked at the side of the road and were not blocking a driveway.
"We would like to thank the police for their support and swift action in this case, but also to the many thousands of people who have sent us messages of support for our staff and the incredible work that they do saving lives each day."
Your view: What do you think? Do paramedics get too much abuse in your country? Let us know in the comments below.