Which is the best EU country to study in?
Comments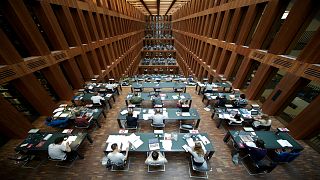 Germany's tuition-free public university system has made it the top choice in Europe for international students seeking to further their education.
It ranks number one on Study.EU's country ranking 2018, followed by the UK and France.
Each country's score takes into account the quality of education (45%), tuition and living costs (30%), and graduates' future prospects (25%).
Despite its runner-up status, the UK ranked lowest for cost due to its high living expenses and tuition fees, with fears its position could slide further post-Brexit. On average, international students in the UK can expect to pay around €23,000 per year.
Poland, however, enters the top 10 for the first time this year due to an increase in affordable, English-taught study programmes. The number of enrolled foreign students at Polish universities has soared from 12,000 to 65,000 in 10 years.
Up to 30 countries are included in the overall ranking, with the top 10 also listed for specific categories: education, cost, and life and career.
Here are the results:
Overall: Top 10
Quality of education: Top 10
To assess the quality of higher education in across the 30 countries, Study.EU measured their performance in the top 800 of three established global university rankings (QS, THE, and ARWU).
The factors were weighted as follows:
40% Performance in university rankings

40% Indicators of teaching quality

20% Number of Bachelor's and Master's programmes taught in English
Affordability: Top 10
The annual cost ranged from around €7,000 in Poland to €10,000 in Latvia in the following list:
Life and career: Top 10
Not all students wish to return home after completing their studies in a foreign university. Quality of life, job marketability and personal safety are all taken into account for the following ranking: