Russian Olympic delegation launches investigation into Russian curling doper
Comments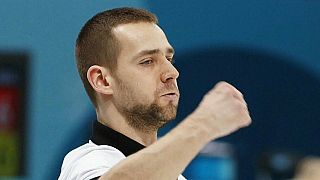 A second sample from Russian curler Alexander Krushelnitsky has tested positive for the banned substance meldonium, the Russian Olympic delegation said in a statement on Tuesday.
Krushelnitsky had won bronze in Pyeongchang with his wife in the mixed doubles curling
The delegation said it could not explain how the substance had ended up in Krushelnitsky's body and it was launching an investigation into the case.
And the president of Russia's Curling Federation suggested that it was not Krushelnitsky's fault.
"We are at least doing everything to prove that someone put it there deliberately," Andfrey Sozin said.
Meldonium increases blood flow and is favoured by endurance athletes so it's not clear how the drug would be useful to a curler who would most benefit from a slower heart rate.
Russian tennis star Maria Sharapova tested positive for the drug in 2016.