How EU's vaccine doubts are harming global measles fight
Comments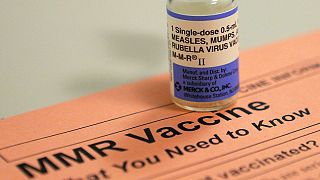 Measles is on the rise in parts of Europe amid a trend of high scepticism towards vaccines in some rich countries, research shows.
According to data collected by research group Civio in partnership with Euronews, Germany alone (2,464) had four times as many incidents of the disease as the entire American continent (611) in 2015.
Italy and the United Kingdom both suffered fresh outbreaks of the disease in 2016, official data shows.
Europe is a world leader when it comes to lacking confidence in vaccines.
In France 40 percent of respondents to the Vaccine Confidence Project's 2016 survey said they didn't think vaccines are safe, while in Italy, one-in-five of those questioned mistrusted them.
Europe's low immunisation levels
This scepticism is likely to have contributed to Italy's low measles immunisation rate – 83 percent of people had received the second vaccine for the disease in 2015.
France's latest figures show just 74 percent of people had received the second jab.
Both are well below the 95 percent level that the World Health Organization (WHO) says is necessary to protect the wider population from an outbreak.
Several rich EU countries, as well as Italy, failed to reach even 90 percent in 2015, including Belgium, Luxembourg and Switzerland.
They have failed where some of the world's poorer countries have succeeded: Algeria, Belarus and Sri Lanka all achieved 99 percent.
While poor and developing countries can point to a lack of resources for low immunisation rates, richer countries don't have the same excuse.
Is there a link between low immunisation and measles outbreaks?
Germany had the biggest measles outbreak in the EU in 2015, according to WHO figures, with 2,464 new cases, compared with 443 the year before.
Italy had 776 reported incidents in the year to November 2016, while the UK had 580 and Romania 1,416 over the same period, according to the European Centre for Disease Prevention and Control.
Seven people, including four babies, died over the 12-month period, six in Romania and one in the UK, said ECDC.
All the EU countries – UK, Romania, Germany and Poland – to report more than 100 measles cases in the year to November 2016 had immunisation rates below the recommended 95 percent level.
Romania's immunisation rate for the second measles vaccine was 88 percent in 2013, the latest year for which figures were submitted.
Where has measles been eradicated?
North and South America was declared measles-free in September 2016 – a 'remarkable' effort for a region that is home to around one billion people.
But it came with a warning.
Dr Carissa Etienne, director of the Pan American Health Organization, said: "I would like to emphasize that our work on this front is not yet done. We can not become complacent with this achievement but must rather protect it carefully.
"Measles still circulates widely in other parts of the world, and so we must be prepared to respond to imported cases. It is critical that we continue to maintain high vaccination coverage rates, and it is crucial that any suspected measles cases be immediately reported to the authorities for rapid follow-up."
The threat immigration poses to the Americas' achievement is not lost on some of its healthcare professionals.
"Europe is sending us measles," says Dr Eduardo Suarez, director of the immunization programme at the Department of Health in El Salvador.
Mexico and the United States are the most sceptical in North and South America when it comes to the benefits of vaccines, but both are still well below levels seen in parts of Europe.
As well as migration, another challenge for the region keeping its measles-free status could be new US president Donald Trump, who is sceptical about the benefits of the MMR (Measles, Mumps and Rubella) vaccine.
Healthy young child goes to doctor, gets pumped with massive shot of many vaccines, doesn't feel good and changes – AUTISM. Many such cases!

— Donald J. Trump (@realDonaldTrump) 28 de marzo de 2014
As Trump – who has caused controversy over his appointment of a vaccine sceptic to a new commission on vaccine safety – alludes to above, the anti-vaccine movements make a link between MMR and autism.
The claim of a link originally came in a 1998 study by Andrew Wakefield in The Lancet, but amid widespread criticism the magazine retracted the article 12 years later.
How close are we to eradicating measles globally?
The measles vaccine was invented in the 1960s, and by the 1980s its use was widespread.
Decades later, however, the disease persists. In 2015, nearly 200,000 measles cases were registered worldwide and 73,844 children under the age of four died.
WHO has postponed its eradication target and now plans to achieve measles elimination in at least five of the six WHO regions by 2020.
Based on the current immunisation rates, this will be no easy task.
While the MMR jab has not eradicated measles, vaccines have had some success, most notably with smallpox.
Meanwhile the polio vaccine has almost wiped out the disease, as this graphic illustrates.
Your view Have you got a story to tell about measles? What's your view on the effectiveness of vaccines? Let me know chris.harris@euronews.com