Condom dresses feature at London Fashion Week
Comments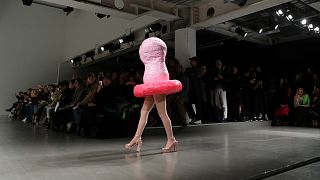 London Fashion Week, which wraps up today, is a bi-annual highlight in the fashion festival circuit.
It is the place where both established and up-and-coming designers will showcase their latest cutting-edge creations on the catwalk: designs that could influence this year's high street fashions or simply prompt confused glances and stares.
And this year has been no exception.
Some of the most outlandish and extraordinary outfits we've ever seen were on display during the five-day event.
Here are some of our favourites:
MA fashion design graduate Edwin Mohney, from Central Saint Martins (CSM) art school in London, wowed the crowd with these contraceptive-themed dresses.
These full-body, sheer gowns and rubber stilettos were another highlight from the show.
'Trumpettos', anyone?
Fashion brand Mulberry debuted this unusual headpiece at the event.
Could chicken headbands become a thing?
We're not too sure about this head and eyewear combo from CSM.
Could eighties shoulder pads make a triumphant return? London designer Gareth Pugh thinks so.