Netanyahu berates Poland's prime minister over 'unacceptable' Holocaust remark
Comments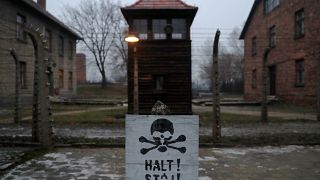 This article has been updated to include a new statement from the Polish government.
Benjamin Netanyahu has denounced as "unacceptable" and unfounded comments by Polish Prime Minister Mateusz Morawiecki – who said Jews, as well as Poles and others, were among perpetrators of the Nazi Holocaust.
A statement issued by the Israeli prime minister's office said Netanyahu told his Polish counterpart in a phone call on Sunday that "there was no basis for comparing the actions of Poles during the Holocaust to those of Jews".
The row – which has sparked a furore on social media – comes amid ongoing tension over Poland's new law imposing jail terms for suggesting the country was complicit in the deaths of millions of Jews during World War Two.
Swastikas and profanities were daubed on the entrance to Poland's embassy in Tel Aviv on Sunday. Police in Israel have opened an investigation.
On Saturday the Polish prime minister, attending the Munich Security Conference, was asked by an Israeli journalist whether the reporter himself could fall foul of the law.
Ronen Bergman said that during the war his family, who lived in Poland, were denounced by Polish neighbours who "snitched to the Gestapo", although his mother managed to save many. He suggested to Morawiecki that he would be branded a criminal in Poland for telling the story.
"What is the message you are trying to convey to the world?" he asked the Polish prime minister.
'Jewish perpetrators' remark sparks fury
"It's extremely important to understand that, of course, it's not going to be punishable, not going to be seen as criminal to say that there were Polish perpetrators – as there were Jewish perpetrators, as there were Russian perpetrators, as there were Ukrainian… not only German perpetrators," Morawiecki said, speaking in English.
The Polish leader's comparison of Jews with others in terms of responsibility for the Holocaust drew immediate criticism. Netanyahu condemned his remarks as "outrageous", saying they showed "an inability to understand history".
'No intent to charge Jewish victims with responsibility'
Late on Saturday night the Polish government released a statement. Mateusz Morawiecki's comments "were by no means intended to deny the Holocaust, or charge the Jewish victims of the Holocaust with responsibility for what was a Nazi German perpetrated genocide," it said.
It went on to state that the prime minister's comments "should be interpreted as a sincere call for open discussion of crimes committed against Jews during the Holocaust".
"Attempts to equate the crimes of Nazi German perpetrators with the actions of their victims – Jewish, Polish, Romani among others – who struggled for survival should be met with resolute, outright condemnation," the government's statement also said.
After the two leaders' phone call the Polish government issued another statement, saying the two countries have agreed to work together on historical research. Highlighting "those terrible times of war and the Holocaust", it refers to people from "various nationalities" who collaborated with the Nazis for different reasons, without distinguishing between them.
Poland's new law
Poland has long objected to phrases such as "Polish death camps", which it argues suggest the state shared some responsibility for them – a complaint repeated by Morawiecki on Saturday.
The new law – drawn up by the conservative ruling Law and Justice party – imposes fines or jail terms of up to three years on "whoever accuses, publicly and against the facts, the Polish nation, or the Polish state, of being responsible or complicit in the Nazi crimes committed by the Third German Reich".
Critics have questioned whether this amounts to a cover-up of the role some Poles played in the killing of Jews – although the Polish prime minister's comments on Saturday reject that suggestion.
Israel has been furious about the new legislation, and there are plans to expand Israel's existing Holocaust denial laws. The US State Department has also urged the Polish government to review its new law.
What happened in Poland during World War Two?
Some three million Jews who lived in pre-war Poland were murdered by the Nazis, accounting for about half of all Jews killed in the Holocaust. Jews from across the continent were sent to be killed at death camps built by Germans in occupied Poland, such as Auschwitz and Treblinka.
Thousands of Poles risked their lives to protect Jewish neighbours during the war. Israel has honoured more people from Poland than from any other nation for saving the lives of Jews during the war.
In Munich on Saturday, Mateusz Morawiecki described the suffering and losses suffered by the Polish people in the war, many of whom had helped Jews – although he added that there were "Polish perpetrators" too.
However, research published since the fall of communism in 1989 showed that thousands of Poles killed Jews or denounced those who hid them to the Nazi occupiers.
"Many, many thousands of Poles killed or betrayed their Jewish neighbours to the Germans, causing them to be murdered," historian Efraim Zuroff of the Simon Wiesenthal Center said as reported in The Times of Israel. "The Polish state was not complicit in the Holocaust, but many Poles were."