Dozens killed as Iranian passenger plane crashes
Comments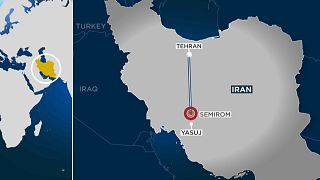 An Iranian passenger plane with 66 people on board has crashed in central Iran during a flight from Tehran to Yasuj in southwestern Iran.
The ATR-made plane, operated by Iranian carrier Aseman Airlines, came down in a mountainous area near the town of Semirom, according to emergency services spokesman Mojtaba Khaledi.
Authorities said the aircraft disappeared from radar shortly around 50 minutes after taking off from the capital.
There was no word yet on what may have caused the crash.
Grieving relatives began to gather at Yasuj airport in the hope of receiving more news.
The semi-official Mehr news agency reported that rescue helicopters were unable to land because of heavy fog and snow, and that emergency workers were trying to reach the area by land.
Iran has suffered several plane crashes in the past few decades.
Tehran said US sanctions have long prevented it from buying new aircraft or spare parts from the West.