Alzheimer's protein 'could be transferred by surgical tools'
Comments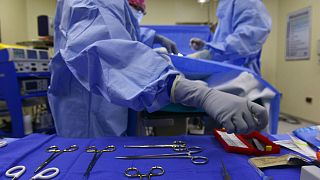 A defective protein that is one of the most common causes of strokes and is present in many people with Alzheimer's could be transferred by contaminated tools during brain surgery, new research has found.
The study discovered the amyloid beta protein in the brains of healthy patients in their thirties who were far too young for it to have occurred naturally, as it's usually seen in people in their sixties and older.
All young patients that displayed the protein in their brains, seen as the hallmark of Alzheimer's disease, had all undergone neurosurgery in childhood.
Transfer of the protein via surgical infection has previously only been demonstrated in animals.
As one of the most common causes of strokes, Professor Sebastian Brandner from the University College London Institute of Neurology, lead author on the study, told Euronews how the protein "sits in walls of vessels in the brain, corroding them until they explode and cause a bleed" in a process called cerebral amyloid angiopathy (CAA).
"Everyone with CAA in their brains will have a stroke sooner or later," said Brandner.
Despite one-third of people with Alzheimer's displaying the protein in their brains, the neurosurgeon emphasised that it was still not known if the contamination was a cause or effect of the disease.
Cases examined in his study didn't show other defects used to diagnose the disease and didn't develop it later in life, he explained.
The findings are significant from a public health perspective in that they prompt medical professionals to take a second look at surgical procedures and ensure they are safe.
"It won't help us cure anything but it confirms further that these proteins are transmissible.
"We should review (surgical) practice and make sure everything we are doing is safe," recommended Brandner.
He doesn't blame surgeons who carried out surgeries that could've to lead to the transfer of amyloid beta, reasoning "it was the best we could do at the time".
While this study looked at a handful of old cases and can't rule out other causes, Brandner's team at UCL team are calling for more research into surgical amyloid infection.