Oxfam Haiti ex-chief denies paying for sex as scandal rocks aid sector
Comments
By Natalie Huet and Tesa Arcilla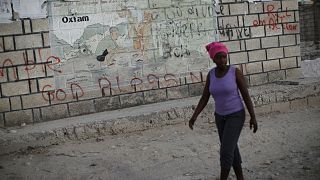 The former Oxfam director at the heart of a sex abuse scandal said on Thursday he made mistakes when working in Haiti but denied paying for sex with prostitutes or abusing minors.
The claims, which surfaced last week after a report by the Times, have prompted Oxfam's deputy chief executive to resign and have thrown the charity's government funding into question. Actress Minnie Driver and South African Archbishop Emeritus Desmond Tutu have also quit as Oxfam ambassadors.
In his first response to the allegations of sexual misconduct, Roland Van Hauwermeiren said in an open letter to a broadcaster in his native Belgium he did not want to cast himself as a victim but feared that Oxfam, other charity workers and those they help would suffer from false accusations.
"I am not a saint. I am a man of flesh and blood and I have made mistakes (not easy to admit) and I am DEEPLY ASHAMED," the 68-year-old former soldier wrote in Dutch to broadcaster VTM.
"I feel I have done wrong, but not in the way that some media are reporting," Van Hauwermeiren wrote, adding: "These allegations are destroying me and I no longer dare to appear in public or speak to my family and children."
He said he resigned his post running the Oxfam operation after the 2010 Haiti earthquake because he had failed to exercise sufficient control over staff accused of sexual misconduct. But he denied any wrongdoing himself, saying he never organised "sex parties" or visited brothels in the country.
The Times newspaper reported on Friday that some Oxfam staff paid for sex with prostitutes in Haiti after the country's 2010 earthquake.
Oxfam has neither confirmed nor denied the accounts reported in the media but has said an internal investigation in 2011 confirmed sexual misconduct occurred and it has apologised.
Fearing backlash
There are fears the scandal could hurt funding for the broader international aid sector.
Britain has threatened to stop funding overseas aid agencies if they don't learn the lessons from Oxfam's sex abuse scandal. International Development Secretary Penny Mordaunt said on Wednesday  the aid sector needed a change of culture.
She was due on Thursday to meet with law enforcement to discuss possible prosecution, following claims Oxfam workers paid for sex with prostitutes in Haiti, where prostitution is illegal, after the 2010 earthquake.
Oxfam receives around 36 million euros a year of funding from the British government, and some 68 million euros from the European Commission.
South African Archbishop Emeritus Desmond Tutu said in a statement he was "deeply disappointed by allegations of immorality and possible criminality involving humanitarian workers linked to the charity."
Tutu added he was saddened that the allegations would tarnish the good work achieved by many thousands of people working for Oxfam.
Tip of the iceberg?
Andrew MacLeod, a former aid worker and former chief of the United Nations' Emergency Coordination Centre, has been lobbying for the international aid sector to clean up its act.
"The vast majority of aid workers are good people. The aid industry is a magnet for good people to try and do good work. But because there hasn't been accountability, the aid industry has also become a magnet for really sick people," MacLeod told Euronews in an interview.
"I expect the EU to do the same thing I'm asking the UK government to do: we need to start focusing on prosecuting the bad apples so we can send the message to the predatory paedophiles that the aid industry is no longer a soft target," he said.
He suggests charities should have a protocol with governments, whereby whenever there is an accusation of child sex against any of their staff, they report it immediately to the country of jurisdiction – the country of nationality of the person undertaking the crime, and the country of the crime itself.