Expert: Ice may be to blame for Russia plane crash
Comments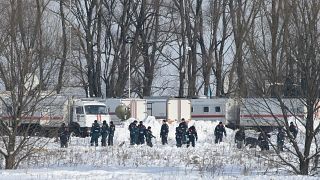 -
With Russia still reeling from Sunday's fatal Saratov Airlines plane crash, investigators are starting the arduous task of trying to understand why the flight came down.
Pilot and flight instructor Andrei Krasnoperov told euronews he thought freezing conditions may have been to blame. Krasnoperov studied and taught at the same academy where the first pilot of the downed plane had studied.
Krasnoperov pointed to what he said was the pilot's "strange" trajectory in the minutes before the crash.
"This trajectory could show that the pilot tested the flight instruments. Something was apparently wrong, maybe it was the icing. There is a normal icing and strong icing; strong icing means that there so much ice covering the plane that it can change its alignment. The ice is very heavy, and I'm not even talking about the big chunks of ice that can get into the engine and shut it down - or even shut both engines down". Saratov Airlines flight 703 crashed less than 10 minutes after taking off from Moscow's Domodedovo airport.
Russian President Vladimir Putin has ordered a special commission to investigate the crash.
Among the possible causes investigators are looking into are weather conditions, human error and the plane's technical condition.
"The plane was out of control as it went down," Krasnoperov said. "And if it was shaking at the same time it means that it was just a flat-attitude spin, it fell from the clouds like a dead leaf, in just a few seconds".
The plane - a short-haul regional Antonov AN-148 - was bound for the Russian city of Orsk in the Orenburg region that borders Kazakhstan. The plane's crew did not send any distress signals.
There were 65 passengers and six crew members on board; no one survived.