Up to 1.5 million Russians expected for annual ski run
Comments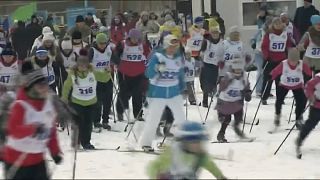 Russia may not be competing in this year's Winter Olympics, but Russian people will be attending a mass skiing event across the country.
People of all ages will take part in the annual Russian Ski Run on Sunday, including five and ten-kilometre courses.
This year's event is being held to support the athletes not admitted into the Olympics.
Up to one-and-a-half million people are expected to take part.
On Friday the Court of Arbitration for Sport dismissed 47 Russian appeals from banned athletes and coaches, hours before the Winter Olympics began in South Korea.
Only the IOC's carefully-screened 169 Russian guests will compete in Pyeongchang, under an Olympic flag.