End game for South Africa's Zuma? ANC eager to seal his fate
Comments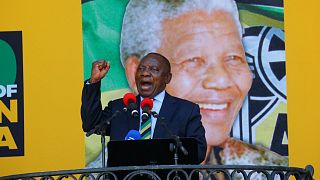 -
The executive body of South Africa's ruling African National Congress (ANC) is set to meet this Monday (February 12) to finalise talks on the future of President Jacob Zuma, who is under growing pressure to step down.
During celebrations on Sunday marking 100 years since the birth of former President Nelson Mandela, ANC leader Cyril Ramaphosa called for Zuma's exit to happen in an orderly fashion, "in Madiba's way of doing things," he said using Mandela's clan name.
"We will continue with this legacy of fighting corruption and making sure that those who are corrupt and steal from the poor are brought to justice. That is what Nelson Mandela would have wanted," Ramaphosa told the crowd.
The 75-year-old Zuma, in power since 2009, has been mired in corruption allegations. Ramaphosa replaced him as the head of the ANC in December and has been expected to succeed him as president.
But so far Zuma has not said whether he'll resign before his second term ends in the middle of next year.
The party's National Executive Committee has the power to instruct Zuma to resign. The ANC had called off a special meeting of the executive body on Zuma scheduled for last Wednesday (February 7) after the president and Ramaphosa, who is deputy president, agreed to hold talks on a handover of power.
"Our people want this matter finalized," Ramaphosa told thousands gathered on the Grand Parade next to Cape Town's city hall. "The NEC will be doing precisely that."