Massive fake currency haul in Italy
Comments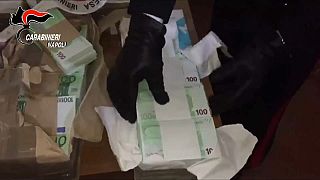 Italian police have seized a massive haul of fake 100 and 50 euro banknotes worth a massive 41 million euros.
The stash took police five hours to count.
The bank notes were wrapped in 90 packages and hidden in plastic barrels.
The barrels were found in a house in the city of Naples owned by a 67-year-old man already known to the police for similar crimes.
The man was arrested and the fake money handed to the Italian Central Bank.