Berlusconi's Forza Italia courts youth vote in Rome
Comments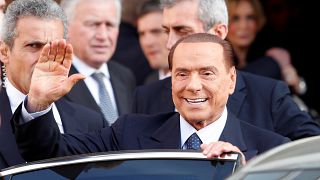 -
Italy is heading to the polls on March 4th in a hotly contested election.
On the campaign trail in Italy Silvio Berlusconi's party Forza Italia has been looking for votes in Rome, in particular the youth vote. But for Berlusconi who is 81 years old, how does the party hope to stay relevant to Millenials?
The head of Forza Italia youth wing Annagrazia Calabria outlines the programme:
"No charges for businesses that employ young people for 6 years, and no taxes for 12 months for young people who create a start-up and then simplify crowdfunding among other things."
Almost one in five young Italians is neither employed, job-seeking, nor in full-time study, that is close to double the EU average. So when asked what the most pressing issue is for young people, one woman at the Forza Italia campaign event answers simply 'jobs', saying people don't just want to stay in university or doing nothing at all.
In the last six weeks polls point to the anti-establishment Five Star party getting the most votes. One young man at the Forza Italia event laments the fact, saying young people are disillusioned and believe in what he calls 'anti-political' parties.
With the Italian election weeks away Euronews reporter Eloisa Covelli notes that "the real challenge for all the parties will be to convince young people to vote in a country where the abstention rate of under 30s is 60%."