Europe has a model for integrating Muslim migrants. It's in Sicily
Comments
By Stefania D'Ignoti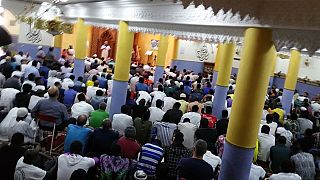 -
On February 5th, Kheit Abdelhafid took the day off from work as a sign of respect towards Catania's patron saint - St Agatha, whose saint's day is the biggest religious celebration in Sicily. His action wasn't unusual- many other residents did the same but marking a Catholic festival is something Abdelhafid, a practising Muslim could not have imagined 25 years ago before he first came to Europe.
I think Sicily, amidst the current episodes of racial hate before the national elections, could become an integration model

Imam in Catania
Abdelhafid, President of the Islamic Community of Sicily, is one of the many Arab migrants who arrived in Sicily in the 90s, looking for study and job opportunities his homeland, Algeria, couldn't offer him.
The tensions around the immigration issue in Italy have arguably never been higher following a far-right attack against African migrants in Macerata. But many Arabs in Sicily say they feel perfectly at home in their adopted country. They have started businesses, formed families and established bonds with locals, and experience very little episodes of racism against their community "compared to other places in italy or Europe," Abdelhafid says. Catania, where he started his new life in 1993, is a welcoming corner for the local Muslim community, he adds.
This Mediterranean city on the Eastern coast of Sicily and second-largest urban centre on the island opened the first mosque ever built on Italian soil in December 1980. Today, Abdelhafid is that mosque's imam. "The fact that Catania agreed to give us a community space for prayers and connect with other Muslim believers, before any other Italian city trusted our brothers enough do the same, made us feel immediately welcome and at ease," he says.
Today, the mosque - located in the historical centre of the city - is not only a gathering point for Muslims, but also helps around 300 struggling Italian families through food delivery and emotional support. It has become a point of reference for the surrounding neighbourhoods. "During Ramadan, we collaborate with Caritas and other Catholic charities to cook interreligious iftar dinners open to everybody," Abdelhafid explains. "Those who lead the community have the duty to teach values to believers, including methods of proactive integration," he continues.
'A heterogeneous cultural heritage'
In the 1980s, Lampedusa was already the "door to Europe, well before the recent migration crisis. Welcoming both political self-exiles escaping from Arab dictatorships and those looking to flee poverty and social problems, Sicily, thanks to its unique position between the EU and the Arab world, became a suitable environment for them to re-build their lives. Although recently there's been a slow internal migration of Arab migrants from South to North due to Sicily's decreasing employment opportunities even for locals, many have decided to stay because they can't see themselves living anywhere else.
Lhoussine Sardi's father is among them. He moved to Sicily from Morocco for better opportunities and created a family in Enna, a city in the heart of the island. "In the 1980s Italy, and particularly Sicily, had a really good reputation in Moroccan public opinion, so that influenced my father's choice," Sardi explains. As a second-generation Arab immigrant, Sardi is building his future here, studying foreign languages at a local university. "We should not forget that Sicily has a heterogeneous cultural heritage and a past of religious tolerance and peace under the Islamic Empire. So I think that integration is something you learn by birth if you live here," Sardi says.
In 2011, the EU invested in this Sicilian model through the funded Al Khantara project, aimed at improving migrant integration in the island. Antonio La Spina, Professor of Sociology and Public Policy at LUISS University in Rome, explained that through research and field experience "it was possible to make a range of specific proposals [...] for the drafting of a white paper laying down an active regional policy for the integration of immigrants."
That document offers a template for how to adapt structures and public attitudes to encourage communities to unite and collaborate.
Ahmed Al-Jammal is a 29-year old Egyptian student of electronic engineering at the University of Catania. He recalls that the first two years after his arrival were rough, even though he already spoke Italian. "But if you're well-disposed enough, it's easy to be part of Sicilian society as an Arab," he says. As a private Arabic tutor, he discovered more than 400 Arabic words in Sicilian dialect, and that often gesticulations, proverbs and even facial expressions are very similar between the two cultures, which helped him to be understood when words were lacking.
Earlier this month, a group of 16 asylum seekers ran the St Agatha Cup marathon, a sports event that forms part of the city's religious festival and an opportunity for newly-arrived migrants to take their first steps towards integration. "I think Sicily, amidst the current episodes of racial hate before the national elections, could become an integration model if we focus on the human side instead of the usual criminality, economic poverty and illegal landings on this island," Abdelhafid concludes.