The Great Escape: Exploding beetle battles hungry toad in research experiment
Comments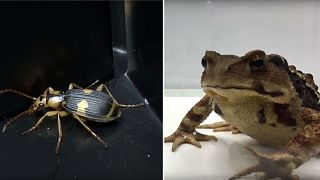 Japanese researchers have captured incredible footage showing a toad attempting to eat a bombardier ground beetle.
The beetle, also known as the Pheropsophus jessoensis, emits a hot, toxic chemical spray from its abdomen when under threat which can be fatal for attacking insects. The specie is commonly found in east Asia.
The video was captured by researchers at Japan's Kobe University as part of a study into how animals can escape the digestive systems of their predators.
It shows the beetle scuttling towards the toad before being pulled into the aquatic animal's mouth by its tongue.
Some time later, the toad grimaces and squirms before coughing up the beetle in an oozing heap.
According to the research, 43% of the toads studied vomited up the bombardier beetles 12-107 minutes after swallowing them.
"All the vomited beetles were still alive and active. Large beetles escaped more frequently than small beetles, and small toads vomited the beetles more frequently than large toads," the research said.
According to the authors, the results "demonstrate the importance of the prey–predator size relationship in the successful escape of prey from inside a predator."
Fifteen of the 16 beetles that survived dinner time lived for at least another 17 days, with one still going 562 days later.