Army join police in carnival crackdown in Rio
Comments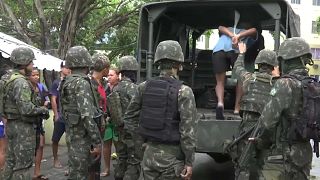 More than 3,000 soldiers and police officers have launched a security crackdown in Rio de Janeiro's 'City of God' favela in response to spiraling violence.
It comes just two days before the city's world famous carnival gets underway.
The authorities said dozens have been arrested in a series of raids in areas where drug traffickers armed with automatic rifles rule the streets.
On Tuesday, at least two people, including a teenager who was playing football, were killed during a police operation.
Last year Brazil's armed forces were deployed to Rio de Janeiro to help the badly overstretched police.
The Rio carnival gets into full swing on Sunday, with the colorful samba parades attracting an estimated 1.5 million tourists.