Why did US stocks plunge and how does it affect Europe in 2018?
Comments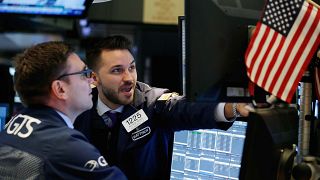 Copyright

REUTERS/Brendan Mcdermid
The US stock market bounced back from its worst slump in six years yesterday — but not before Asian and European markets took a hit. 
"The highly valued stock market was like a game of musical chairs—it was clear to everyone that there would not be enough chairs in the end."

Chief Market Analyst at CMC Markets
Euronews asked three economists how this happened, what they think the next year might look like and how the US drop impacted European markets.
How did we get here?
'Most-predicted pullbacks'
Jasper Lawler, Head of Research at London Capital Group, told Euronews this was one of the "most predicted pullbacks" in the US stock market's history.
"Things can't go up in a straight line," he said, "stock market volatility has been at record lows for the past year and this created a 'coiled spring' effect".
Lawler said the lack of volatility compressed this "spring" to such unusually low levels that when there was a spark of concern in the past week—that inflation may pick up and cause higher interest rates, leading to people being less enthusiastic about buying stock—it sprang open.
Desire for higher wage numbers 'caught people on the hop'
Chris Beauchamp, Chief Market Analyst at IG, sees the US jobs report and wage numbers as potential culprits for the "sell off," which caused the cascade movement in the stock market.
"You had a stronger wage number in the US, which comes after months and months of people saying 'gosh we need higher wages in the US' and this really appeared to catch people on the hop," he said.
Beauchamp thinks stocks have been overdue this move for some time, as 2017 has been quiet so far and people "got too complacent".
'Not enough chairs in the end'
Jochen Stanzl, Chief Market Analyst at CMC Markets, agrees with his fellow economists, describing the highly valued stock market like a game of musical chairs and saying "it was clear to everyone that there would not be enough chairs in the end".
"Automatic trading systems and fund managers now sit on large cash amounts that will sooner or later find their way back into the markets again," he said.
How does this affect Europe?
'When the US sneezes everyone else catches a cold'
"What happens to the US happens to Europe," said Lawler, "when US markets dive like that you're going to see Asian and then European markets fall as well."
He compared this situation to 2008, in that the US housing crisis sparked a global financial crash.
Lawler explains that the European market hasn't been as "excessively bullish" as the US' and therefore neither experienced a hike nor drop to the same extent.
Europe experienced a 'hefty dose of volatility'
Europe experienced "a hefty dose of volatility," which saw stocks going down, according to Beauchamp.
Both the UK's FTSE and Germany's DAX saw record highs in the last month but they weren't as strong as the US, so he agrees with Lawler that Europe didn't have as hard a time of it as its American counterparts.
What can we expect in the next year?
The three analysts don't believe the volatile week in the markets will lead to another financial crash and they remain optimistic that the markets will recover. Exactly when, and to what level, they recover is up for debate.
Jasper Lawler
Lawler doesn't think this bout of volatility is the start of an economic downturn.
"Actually, the global economy looks very healthy", he said, "generally with this economic backdrop you wouldn't expect the economy to roll over."
His prediction is that over the next few days the market will gradually make its way back up again to finish the year "probably on record highs".
Chris Beauchamp
This shouldn't be the start of a global financial crash, according to Beauchamp, which some people may have thought when they read Tuesday's headlines.
He sees it as a "dip along the way" and would be surprised if the market didn't recover in due course, reassuring that "equity markets over the long term remain very, very strong".
"We should expect to see these brief downward moves that knock the market back so it can then move higher again," he said.
Adding, this is "something long-term investors should welcome as it provides them with the opportunity to buy stocks in a 'sudden discount sale'".
Jochen Stanzl
"If we could learn anything from the recent sell-off then it is the amount of danger real inflation could play for the financial markets in 2018," Stanzl warns.
Although at the moment there is no real sign of inflation picking up, if there were any increase in consumer and producer prices, central banks might be forced to hasten their approach to hike rates—which they are not really able to do given the high global debt loads, he explained.
Stanzl agrees with Beauchamp, advising: "Anyone who wanted to go long in the Dow Jones doesn't have any argument not to buy right now ... Except the fear that it (the stock market) might go even lower."