Shares across Europe recover after plunging in early trading
Comments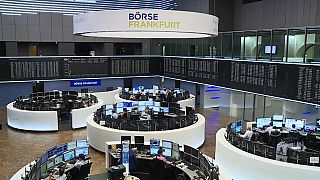 Shares across Europe are recovering after falling during early trading, following what has been described as a "bloodbath" across Asia and the US.
The losses were triggered by the largest ever one-day points fall in America's Dow Jones on Monday of 4.6% — its biggest percentage decline since August 2011, fueled by fears the US. Federal Reserve will raise interest rates faster than expected due to a pick-up in wages.
This led to Tokyo's Nikkei 225 stock average ending with a near 5% drop.
Falls in Europe followed at the open with losses of up to 3% in London, Frankfurt and Paris before recovering some ground.
By mid-morning trade, London's FTSE 100 was down 1.79 % Frankfurt's Dax and Paris's CAC were down 1.86% and 2% respectively, with Zurich down 1.92 percent.