Portugal police snatch substance set to make millions of ecstasy pills
Comments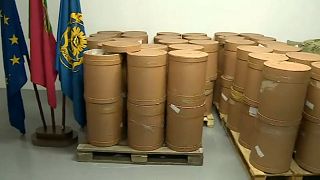 Police in Portugal have made one of their largest seizures of a substance used to produce the banned drug ecstasy.
Around 4.5 tons of BMK arrived in the country by air from Asia. It's thought the haul would be used to make around 30-million pills.
It follows a joint operation involving Dutch and Belgium authorities, although no details have been released as to where and when the bust was made.