Musk launch will herald new era of space co-operation
Comments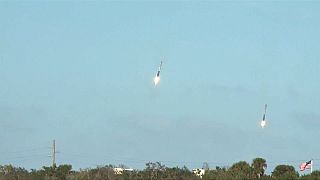 The world's most powerful rocket roared into space on its debut test in another milestone for billionaire entrepreneur Elon Musk.
But Libby Jackson of the UK Space Agency says it's not only Musk who will welcome this latest success.
She says it is a great step forward in rocket transportation.
"It was a brilliant, techinical achievement as the first launch of a rocket always is," she said. "And the Falcon Heavy, three of their Falcon 9 rockets strapped together effectively, went smoothly as far as I can tell pretty much without a hitch."
Musk has said he hopes the launch will encourage a new space race by private ventures and other countries. On the contrary, says Jackson, it will herald a new era of co-operation.
"Europe is not competing with them, we are working with them," she explained. "The European Space Agency is a partner with NASA, with the Russians, the Japanese space agency and the Canadians. That's what's put the International Space Station there in orbit."
She believes space exploration is too big for any one country to do on its own. And believes it's a great sector for international partnerships.
Meanwhile, the billionaire known for self-deprecating understatement hailed the launch as a big 'relief'.